Learning Torah; backdrop, the slums of Mumbai
Udaipur, India December 2014
Rose Pollard, GPM JDC Entwine Fall 2014 Fellow

For the past 2 months, I spent my time teaching informal education classes in a slum called Kalwa, just outside of Mumbai. As I taught, sang, and laughed in the tin-hut classrooms with my students, their eagerness and earnest expressions brought me moments of pure fulfillment. The kids' integrity, cooperation, and joy was humbling, given the conditions of the slum around them. The images I saw every day walking to class still stick with me – naked children scampering across trash piles, pigs, goats and chickens running rampant, and families of 10 living in single, tiny rooms. It was hard to filter the difference between the comforts I am used to and the reality for those in the slums of Mumbai.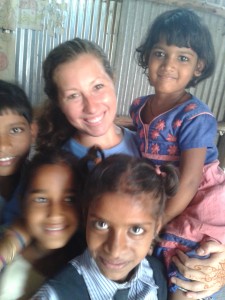 The organization I worked with, Gabriel Project Mumbai (GPM), helped me process the contrast. GPM organized Jewish learning classes on social justice with TAKUM led by Shoshana Cohen and Rabbi Levi Lauer. Taking time to learn Torah allowed my cohort and me to take a step back from the overwhelming images and experience in Kalwa. The learning urged us to question the big picture and ask: Why are we here again? What influences brought us to India in the first place, and why is being here important?
As soon as we started reading Torah with Shoshana, I smiled, comforted by the sounds of Hebrew and the transition to analytical thought. We discussed the power of creation – in its definition, in G-d, in ourselves and in every human being. It reminded me of the power I hold as a teacher to shape each lesson and affect a child's life. Shoshana also urged us to share what made us decide to work with GPM, reconnecting us with what we wanted to get out of the experience. 
Our time with Rabbi Lauer combined the theories of spiritual ideas to our physical work in the slums and vulnerable children with vital significance. He led us through thoughts of leadership, justice, and motivation. One concept he spoke of was the necessity to "pursue meaning, instead of comfort." I have since considered this idea many times, asking myself:  how can I push the boundaries of discomfort to pursue growth – both in the communities I touch and myself? Rabbi Lauer's session revealed that this question has been asked for eons, and the struggle of finding and pursuing meaning is everywhere in Jewish text.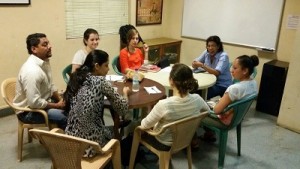 The sessions allowed my fellow volunteers and me to connect on a deeper level. As my new friends piped up around me, engaging and offering insightful thoughts, I felt a new appreciation for each of them. After spending so much time living, planning, and joking with one another, we were suddenly relating in a new way. Bouncing off one idea to another, we were able to appreciate each other intellectually, which for me added a meaningful layer to our cohort.
The discussions were invigorating and I left each session with new energy to bring to the classroom. I gained perspective on the discomforts and contrast in the slum– urging me to seek the meaning beyond it. From the steadfast sense of community to the boundless happiness of my students, there is so much to learn from those in Kalwa. I have Rabbi Lauer and Shoshana to thank for helping me to seek this meaning and allowing it to bring profound personal growth to my time with GPM.