If Jews exclusively devote themselves to even the best Torah study, they risk becoming recluses within universities, libraries, classrooms and the beit midrash. Alternatively, if they only seek to become social activists without grounding such activism in traditionalist learning, their voices and actions often lack Jewish resonance.
To remedy social injustice and inequity in Israel society and encourage individuals to become agents of change, ATZUM-Justice Works synthesizes formal learning with activism towards resolving severe community crises. Whether working in Israel, locally or around the globe, ATZUM urges those committed to Jewish learning to take the Torah to the streets and act decisively to help "the other".  
In this issue of our newsletter, we focus on the following educational and service-learning programs.
---
International Street Torah: The TAKUM (tikkun u'mishpat/restoring justice) International Social Justice Beit Midrash is a ten-month program combining in-depth study of Jewish texts with social activism. The initiative was founded by ATZUM in partnership with Yeshivat Talpiot, an Israel NGO that encourages engagement in critical and open discussion of religious life and politics as a means to enrich activist endeavor.
TAKUM was launched in 2014 in Israel, the U.K. and the U.S. In 2015, 58 TAKUM Fellows are participating in two cohorts in both Jerusalem and London. TAKUM is also teaching a small group working with the Gabriel Project Mumbai, an NGO providing hunger and medical relief and basic education to vulnerable children living in that city's most deprived slums.
What's in a Name? By claiming Jewish text as a touchstone for improving society, TAKUM brings together learning and action. TAKUM embodies the following principles:
Takum (raising consciousness and engaging street activism): TAKUM inspires young activists to wake up to the resources available within Jewish tradition to inform grassroots outreach. Be it working to protect human rights or the environment; eradicating poverty or illiteracy; or assisting at-risk individuals who lack power or a voice to act and speak for themselves, TAKUM motivates activists to address social problems and stand up for others.
Tikkun (forging a connection between learning and action): How do I prioritize projects? Where do I spend my energies? Who most needs my help? Though constantly asked by activists, if not systematically confronted, such questions can blur focus and frustrate the search for best practices. TAKUM's program of text study helps activists clarify issues of power, privilege, responsibility, gender politics, and community boundaries. By learning while doing, TAKUM encourages the individual to enjoin rhetoric with action.
U'Mishpat (restoring justice and sustaining social change): Studying classical Jewish sources helps activists imagine creative solutions to contemporary problems such as how to divide water resources, secure gender equality, or integrate "the other," such as asylum seekers, within society. Through learning, TAKUM participants arrive at new ideas and acquire the language and structures necessary to re-frame the issues dealt with in the field. Attention to Jewish law, in particular, provides TAKUM Fellows radical mechanisms for deep and lasting change.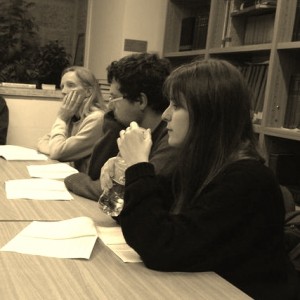 TAKUM Fellows: The TAKUM community consists of experienced social-change professionals and grassroots volunteers. Fellows learn weekly in havruta (partnered learning) and in formal shiurim (group lessons) in TAKUM's open, respectful and critically engaged environment.  In lieu of tuition, Fellows are obligated to volunteer five hours weekly on behalf of some of their communities' most at-risk residents.
Current participants include individuals who have already taken to the streets to address local and global issues, among them educators; lawyers; local and visiting rabbinic students; musicians (including one professional involved in Heartbeat, a music dialogue organization for Israeli and Palestinian youth activists); and those aiding girls and women in distress, including one Fellow who spent two years working with Ultra-Orthodox girls with eating disorders, now a volunteer at the Jerusalem Rape Crisis Center. A number of Fellows have volunteered their time helping distressed populations around the world working in a rural village in Nepal, and as part of the American Jewish World Service volunteer corps in La Ciudad Romero, El Salvador.
To find out more about becoming a TAKUM fellow, or to invite Rabbi Levi Lauer of ATZUM and Shoshana Cohen of Yeshivat Talpiot to your community, please contact Kayla Rothman-Zecher.
Related Blog Postings:
From Mumbai: In the words of Rose Pollard, Gabriel Project Mumbai/JDC Entwine Fall 2014 Fellow.
From London: In the words of Maytal Kuperard, JHub Communications and Community Animator.
---
 
Working with Visiting Diaspora Young Leadership
In the fall of 2014, ATZUM launched a year-long service-learning program for a group of students in their 20's and 30's affiliated with the Jerusalem-based Pardes Institute of Jewish Studies. In addition to their formal learning, these young adults from different Jewish backgrounds and Diaspora communities are volunteering with ATZUM's  Task Force on Human Trafficking.
Participants take part in a weekly course focusing on the connection between human trafficking and sexual servitude through prostitution with the aim of encouraging informed activism towards their abolishment. ATZUM's Rebecca Hughes, who developed and teaches the course, notes its objectives are: "…to provide future Jewish leaders with the tools to intelligently and thoughtfully discuss and act upon these issues."   Like their Israeli counterparts, most students had no idea that trafficking and prostituting girls and women are part of the narrative of the Jewish State. 
Hughes adds, "I've been impressed with the group's willingness to learn about and discuss these difficult, abhorrent issues and bring them to the attention of their peers at Pardes and beyond. For them, studying the issues have not been enough; they want to act, to be a part of the solution. This is a huge part of what we hoped would transpire. I'm confident that at the end of this year they will continue their activism on these issues."  Indeed, one participant who blogged about the program notes: "I think my newly acquired knowledge and that of my fellow volunteers can only help the world as we seek to further educate our communities."  Most recently, participants organized an evening of learning at Hebrew University in partnership with Rabbis for Human Rights and Hillel.
Related Blog Postings: 
In the words of Darya Watnick, Pardes Institute of Jewish Studies program participant and Task Force on Human Trafficking volunteer.