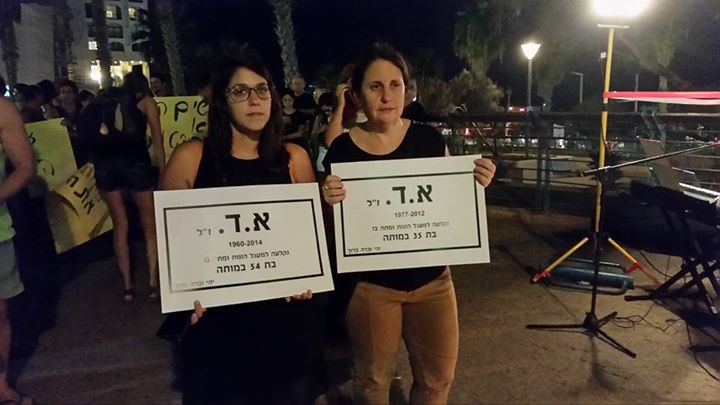 For the last two weeks, Israel society has been deeply engaged in a dialogue about the evils of prostitution. The intensive public discourse on the exploitation of vulnerable, prostituted girls and women was triggered by a tragic event.
On August 13, G, a 36-year-old woman who made aliyah from the FSU at age 15 and had been prostituted for half her life, committed suicide in the brothel in which she was raped and abused nightly by 20-30 johns, six nights a week.
The place where this tragedy took place, located at 98 Hayarkon Street in the heart of Tel-Aviv, and in operation for a decade, is one of the area's 200-250 brothels and "discrete" apartments well known to law enforcement agencies. It is also where nearly 900 Israelis gathered on August 22 to mourn G's death, urge society to confront the brutal cost of prostitution, and act to assure its abolishment.
The event in G's memory was organized by ATZUM-TFHT and a national coalition of NGOs working on related issues. The aim was to bring public awareness to the many other nameless, faceless women suffering the same debasement, who too often feel that they have no choice but to take their own lives in order to escape.
The evening began with somber reading of a list of 42 women who died in the last five years due to prostitution and trafficking. A moment of silence followed. NGO coalition members, Members of Knesset (MKs), and mayoral advisors spoke, as did women who had escaped prostitution. The mourners eventually moved to block the entrance to the brothel where G died and where johns were seen still entering the building. Two women prostituted in the same brothel joined the memorial service and told one of the other organizers, "Kol hakavod, good that you woke up. It really says something to us that so many people came to honor G. You just can't imagine how many other G's there are."
TFHT has been in the Hebrew and English-language news (print, radio, and television) daily since publishing a public death notice in G's name, a customary practice in Israel upon the passing of a loved one or revered member of the community. This itself was extraordinary—the first time that respectful notification of the death of a person identified as a prostitute was published.
G's tragic end is important, a defining moment which insists Israel society open its eyes and take action. Her death lifts the veil that cloaks the public's misconception that women choose prostitution, a falsehood perpetrated by those who claim it to be a harmless personal choice, and one that facilitates a woman's independence. And who is actually claiming this to be true but the johns whose demand for sex finances prostitution and the pimps and traffickers who are the true beneficiaries of the flesh trade.
Einat Harel, 51, known as the Tel-Aviv Madam, who ran a brothel for nearly a decade, was interviewed on the August 31 segment of Channel Two's highly popular Friday night program regarding her most recent indictment on charges of pimping, soliciting for prostitution and money laundering.  Without compunction, Harel suggested the police pursue "real criminals" instead of hounding those who seek to facilitate free enterprise. The public outcry was tremendous.  The interviewer was slammed for giving this woman a platform to glamorize and legitimize prostitution as a simple lifestyle choice. 
"I am glad to say viewers saw through Harel's lie and are starting to engage in a serious manner," said Michal Leibel, a lawyer and TFHT Director. Speaking in an August 24 interview in Media Line, Leibel argued that "Legalization has been shown to increase demand for prostitution, as the trade becomes legal and therefore no longer taboo…[failing] in its attempts to improve the lives of [the prostituted person]…Violence and sexual attacks towards [the] prostitute[d], and women as a whole across society, may increase in a culture where women can be purchased freely."This is intolerable.
ATZUM, its TFHT co-founder the law firm Kabiri-Nevo-Keidar, and our philanthropic partners mourn G whose suicide prompts us to redouble efforts to ensure passage and enactment of law based on Nordic Model legislation, the international standard designed to criminalize pimps and johns and protect the prostituted person.
As the Knesset is currently in recess, our continuing lobbying efforts of MKs and government ministers must wait a few more weeks. However, we are in ongoing contact with Shuli Moalem Rafaeli (Ha Bayit Hehudi), Zehava Gal-On (Meretz) and Merav Michaeli (Zionist Union) who support our cause and are dedicated to promoting the bill the Task Force recently authored.
Hopefully, G's death will be written in Israel history as the pivotal moment in the cause of criminalizing johns and supporting survivors of prostitution; hopefully, one day her real name will be known as a source for pride and respect.
---
Note: An in depth interview with Michal Leibel will follow in the coming days and an update from P119 will soon be issued. Recent English-language posts: