CSIZMADIA Sisters: FISCHER, Olga
CSIZMADIA, Malvina, and SHURANI, Orna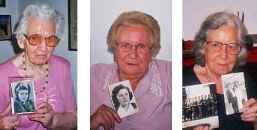 The Csizmadia sisters: Olga Fischer, Malvina Csizmadia and Orna Shurani
Olga (1922-2006), Malvina (1926-2010) and Orna (1928-2017) were sisters. Together with their mother, they saved more than 25 Jewish men from a work camp in Hungary.
Upon the Nazi invasion to Hungary in 1944, a work camp was established next door the home of the Csizmadia family. The day that the barb wired fence was constructed, Malvina climbed a tree in her garden to see what was on the other side of the fence, and started talking to a Jewish man. When she asked if there was anything she could do to help him, he told her that she could mail his letters. From them on the Csizmadia family helped him with whatever they could. In addition to supplying food and necessities, the family home became the Jews' connection to the outside world; the mother and sisters brought newspapers, transferred mail and even hosted relatives of the men in the camp in their house.
With the advancement of the Russian army, the Csizmadias were afraid that the Nazis would kill everyone or take them to a concentration camp. They decided to find hiding places for as many men as they could. When the time came, the mother and sisters escorted the men through the area ridden with German and Hungarian soldiers, to hiding places on farms nearby. They kept bringing food and moving men from hiding place to hiding place until the area was liberated.
After the war, both Orna and Olga married men that they rescued, and moved to Israel with the founding of the State. Malvina and their mother joined them in Israel and few years later. All three sisters moved to Northern Israel, where their families still live today.
Prior to hear death in the summer of 2006, Olga lived in her home in Akko and later Kiryat Motzkin. She spent her time visiting with her family and enjoyed watching sports. When her husband, whom she saved, was hospitalized in a special nursing home, she would make sure to visit him daily.
Malvina lived in Nahariya in Northern Israel. She has three grandsons, who all served in combat units in the IDF. When her youngest grandson was drafted, he visited Yad Vashem in uniform and gave his first salute to his grandmother's tree in the Avenue of the Righteous Among the Nations.
Orna lived in Nahariya, close to her children, grandchildren and great-grandchildren. During a visit to Orna, ATZUM staff met 4 generations of women in her family. During the Second Lebanon War, Orna's house in Nahariya suffered from two direct rocket hits.