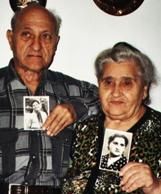 POLISCHUK, Viktor
Viktor Polischuck and his late wife, Elvira
Viktor Polischuk lived in his uncle's household in Ukraine. When the Germans liquidated the Gaysin ghetto in 1943, it was clear that the Jews' days were numbered. One night in the summer of 1943, Viktor's uncle brought home a Jewish father and son, Lev and Arkadiy Burshtein, from the ghetto. Viktor's family took them into their home, providing food and shelter and caring for all of their needs.
In October 1943, when the retreating Germans intensified their atrocities against the Jews still living in occupied territories, Viktor's family found a way to move Burshtein and his son to a safer hiding place in Transnistria, which was under Romanian control. They found shelter there until the liberation. In 1995, Yad Vashem recognized Viktor Polishchuk as Righteous Among the Nations and shortly afterwards he moved to Israel.