California
Varda Rabin, well known community activist and fundraiser, contacts rabbis and school principals in the Bay area encouraging their communities' contributions to ATZUM, and to connect to specific Survivors of Terror families in a project called "Family by Family". To date, eight synagogues and schools have "adopted" families.
The Talmud's (Sanhedrin 27b) formulation "kol Yisrael areivim zeh l'zeh" is usually translated "All Israel is responsible one for the other". Varda states the literal translation of "areiv" is "guarantor", and that a guarantor helps someone who cannot do something for himself. She feels it is the responsibility of Diaspora Jewry to be guarantors for Israelis in need.
Thus, she maintains contact with each community, providing advice and encouragement. One of those groups is Congregation Kol Shofar, which has raised $23,000. Kol Shofar's Beit Binah children's religious school for grades 1-6 raised $2,500 dollars by holding bake sales, a special pre-Passover sale, and a Hebrew-a-thon, and by emptying their personal tzdaka boxes. Many thanks also to Dr. Miri Goldfein, and her 13-year-old son Michael, who have helped Varda tremendously.
The 6th grade students of the Religious School of Temple Emanu-El in San Francisco decorated solidarity T-shirts and sent photographs and letters for distribution to Israeli school children. ATZUM brought the shirts to students at the Gilo Bet State School in Gilo, Jerusalem. The school was in the direct line of terrorist fire from neighboring Beit Jala on numerous occasions and was shot into on one occasion while an after-school program was in session. Many of the children who attend the school also live in the area where the shooting took place and have experienced much emotional trauma. The Israeli students were very responsive to the beautiful artwork and truly appreciated the gifts and the thoughts behind them.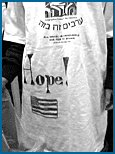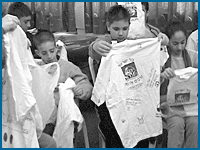 Above: Solidarity T-shirts sent to students at the Gilo Bet State School in Gilo, Jerusalem.
Students' Greeting Cards To Survivors of Terror
A letter from Renee Rubin, Congregational Educator, Temple Emanuel:
Next to the other piles of pending projects on my desk sits a tall pile of handmade greeting cards. This week, as part of our Grandparent and Special Adults Day programming, our students studied the concept of bikkur holim (visiting the sick) and talked about the difficulty that Israelis currently face. In order to reach out to these Israelis, we invited our students to write letters of solidarity and friendship.
Although the greeting cards sit on my desk, I have to admit I start out somewhat cynically. How much impact can a pile of greeting cards have?
But when I begin reading through the cards, my cynicism gives way to enthusiasm. The cards from the younger children are beautifully decorated with Israeli flags, flowers and basketballs, and include simple greetings.
We need to do something special with these cards. I send an e-mail to ATZUM, a unique, no overhead organization founded by Rabbi Levi Lauer that focuses on offering financial assistance and emotional support to Israeli terror victims and their families. Less than 24 hours later, I get a reply back from Roberta Bernstein, the ATZUM social worker:
Thank you so much for contacting ATZUM. We would be very happy if you would mail the cards to us. We will gladly give them out to victims of terror who so appreciate being told that others are thinking of them and wishing them well. The physical and emotional traumas of being in a terrorist attack are unfortunately so intense, and so all encompassing. People in such circumstances are significantly cheered up by kindness and thoughtfulness by others. We thank you and the students in the Religious School so much for doing such a wonderful mitzvah.
A large envelope of greeting cards is making its way through the mail to Israel. No, the cards are not going to solve the problems of the people receiving them. The cards are not going to stop terror. The cards are not going to bring peace. I can only hope that the cards will help them and us feel a little less alone and isolated. The cards remind all of us that getting involved emotionally, financially, and politically is our obligation. And when I imagine the smiles on the faces of those who receive them, I know we are doing something to move the world in the right direction.
Renee Rubin
Congregational Educator
Temple Emanuel
Beverly Hills, CA
Connecticut
Twelve mothers in Connecticut adopted a Jerusalem family that lost two children in a terrorist attack. The Connecticut women, along with their children, organized a tag sale and a bake sale. One mother asked her children to refrain from buying her Mother's Day gifts and taking her out to lunch on that day and to donate the money they would have spent to ATZUM. In addition, the American families frequently send letters and cards to the family. The children even send letters and gifts to the nine-year-old daughter. Three of the Connecticut mothers, including one who also lost a child, wrote to the Israeli mother on the deceased son's birthday, just to let her know that they empathize with her pain.
New York
Thanks to the generosity of members of a Beit Midrash in New York sponsored by Hazon ATZUM sent Purim gift packages (mishloach manot) to 15 terror survivor families in Israel. Nigel Savage, Director of Hazon, collected and forwarded the funds. Such gifts remind these families they are not alone in their suffering.
In 2006, ATZUM distributed $8,200 in financial aid to 53 families for Pesach and $13,000 of financial aid, supermarket vouchers or checks to 45 families for Rosh Hashana. Additionally, new holiday outfits were provided to 125 children by Divote , South Africa.
ATZUM provided 55 gift packages for Shavuot through a donation specifically designated for this purpose. The families who received the gifts were very moved and appreciative. One woman said that it was the first special gift package she had ever received, and that being remembered and cared for before the holiday had moved her to tears. Many thanks to "Dash Cham" for their generosity and cooperation with ATZUM on this project.
Tel Aviv
The women of The Accent Quilters Guild of Tel Aviv, which is affiliated with the Pomegranate Guild of Judaic Needlework from the United States, donated 20 quilts for terror victims aged 5 and under. These beautiful quilts, individualized, creative works of art, are made out of colorful, comfortable materials. The women who made the quilts did so with love, wanting the children to have something especially comforting.