---
Since 2002, ATZUM's Roberta Bernstein (z"l) Project for Survivors of Terrors has assisted hundreds of families and individuals in a variety of ways, providing financial aid of more than a million dollars, educational grants and resources for rehabilitation. It was ATZUM's privilege to have been able to facilitate this response to the devastation of murderous terror and wounding. In consideration of the fortunately far fewer terror attacks in recent years, fewer contributions and resources to fund the Project, and the inclination of the Israel Government to designate the victims of war as "victims of terror", we have suspended the Project for all but the most urgent needs. Urgent requests can be sent to: info@atzum.org.
We thank our donor partners around the world who helped sustain the Project over the past fifteen years. Any funds previously raised to aid Israel's survivors of terror have been carefully allocated for this purpose. May we all come to a time of peace and freedom from terror.
---

A terrorist attack lasts a moment; its impact lasts a lifetime.  Terrorism is a recurrent, brutally disruptive part of life in the State of Israel.   Many victims and their families never recover.
In addition to the anguish and pain of mourning and suffering, thousands of Israeli families have been financially devastated by death, maiming or serious injury resulting from terror attacks.  Countless still suffer, living at grave economic and social risk.
ATZUM works to assist these families by focusing on providing them with the educational resources and quality dental care that are the stepping-stones to their and their children's recovery and secure future
ATZUM 's Roberta Project distributes funds directly to families whose lives have been irreparably shattered, particularly those whose main provider was the victim.  While we also assist survivors of the most recent violence, ATZUM specifically works to identify survivors from long forgotten attacks who are not receiving adequate assistance.  Survivors of violence prior to the "Intifada"/Palestinian uprising, which began in September 2000 are often overlooked by programs of assistance which focus on more recent cases.
Every dollar earmarked for ATZUM's Survivors of Terror Project goes directly to the intended recipients.

Educational Resource Fund
Entire extended families are severely impacted by the wounding of one or more family members in a terrorist attack.  The physical and emotional trauma of the attack, or the loss of a relative, can be debilitating.  Anxiety and depression in the home rise significantly riddling children's school performance, concentration and behavior.  Increased financial pressures cause added stress and prevent parents from securing the proper resources to meet their children's educational needs.  ATZUM's Educational Resource Fund helps secure a better future for these children who have suffered irreparable loss and trauma.
The fund provides tutoring, psychological and educational evaluations and counseling, payment of tuitions, purchase of computers, and transportation fares (enduring a bus bombing often makes it difficult if not impossible for further use of that more economical transportation).
While the Israel Government funds many services for the survivors themselves, they usually do not pay for meeting many of the needs of siblings, spouses or children of the survivors who also suffer considerably.  All families referred to ATZUM were initially screened by social workers from Israel's National Insurance Institute.  Upon receiving a request, ATZUM's staff carefully researches each case before ascertaining no other funds were available to meet the specific need addressed.
ATZUM depends on this fund to meet educational, vocational and rehabilitation needs of the families.  We seek to expand this to meet the requests presented to our Social work staff.

Jewish Tooth Fairy Fund Initiative
Survivors of Terror of all ages – children, adults, and the elderly – frequently suffer from acute dental issues that demand immediate and extensive treatment. In Survivor of Terror families, young children who were wounded often require dental intervention as a result of their injuries; in other cases, death or injury of a parent leaves the family unable to afford even the most routine pediatric dental care. Older children and teenagers are in need of orthodontic care presenting an expense the family cannot meet. Terror survivors who have reached advanced age require dentures they cannot afford, while those of any age often have many teeth negatively affected by their long stays in hospitals and rehabilitation facilities and suffer pain and poor self-image as a result.
For each of these cases, ATZUM serves as an address to which these individuals can turn for financial and practical assistance in obtaining the dental care they so urgently require.
The initiative, now in the fundraising stage, has the following goals:
Fund 10-15 Survivors of Terror annually to receive appropriate dental care, at an annual cost of $50,000.
Facilitate a full range of dental services for those who have no access to dental insurance. This would enable ATZUM to provide Survivors of Terror identified and screened by National Israel Insurance and ATZUM social workers a wide range of dental treatments, endodontic, periodontic and prosthodontic services for Survivors of Terror, including bereaved parents, coping with numerous challenges.
Recruit local dentists and dental suppliers to offer their services at a reduced fee.
Family by Family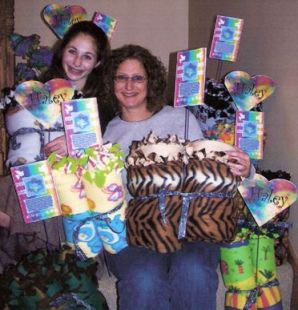 This initiative connects Bar/Bat-Mitzvah aged children and their families in North America with peers in Israel who have been wounded in or directly affected by a terror attack.  In each case, the North American family decides how to define its relationship with the Israeli child. Past participants have corresponded via phone and e-mail, sent gifts, and organized special mitzvah projects in their hometowns.
In a similar fashion, soon-to-be married North American couples are connecting with Israeli newlyweds affected by terror attacks. In many cases, they ask their wedding guests to donate to ATZUM in lieu of a wedding gift.

Our Inspiration: Roberta Bernstein (z"l)

In 2008, ATZUM's Survivors of Terror Project was renamed to honor the memory of Roberta Bernstein (z"l), the first director of the project.  After working for many years as a highly respected social worker for the Jerusalem Municipality, Roberta joined ATZUM in 2002 and began developing the Survivors of Terror Project.  Between 2002 and Roberta's tragic death in an automobile accident in 2007 (which also took the life of her husband, Chuck, and daughter, Batsheva), she had assisted and become a treasured member of 450 Survivor of Terror  families. Her tireless dedication to Israel's victims of terror serves as a perpetual source of inspiration to the ATZUM family and everyone who knew her.
Roberta is survived by her son Moshe and daughter Ofra.