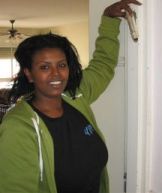 Thanks to your gracious assistance and generous support, ATZUM is able to assist the families of survivors of terror, such as these, to rebuild their lives:
Right: SN, Survivor of Terror, receiving a mezuzah for her new home made by a rehabilitated psychiatric patient at Bayit Cham. This gift from an anonymous donor was facilitated by ATZUM.
L.D.
L.D., 28 years old, suffers from PTSD resultant from a terrorist attack on a Netanya shopping mall in which he was injured in in 2005. As a result of his injuries, for an extended period, he was unable to function due to the severe emotional trauma he experienced. After a years-long period of rehabilitation, he courageouslydetermined to "rebuild " his life. He will begin B.A. studies in the social sciences at a college in northern Israel and hopes to study psychology in the future. Due to his financial hardships, he was unable to afford a computer for his studies and turned to ATZUM for help. ATZUM enabled him to purchase a computer necessary for his studies.
A.R., is 29 years old. His father was severely injured in a terrorist attack in 2001 at the train station in Binyamina. After a very difficult year in which the family nursed and cared for him until he completed his rehabilitation, his father made the decision to leave his family, severing all ties to his wife and children. A.R. was left with the difficult financial and emotional consequences of that situation, working tirelessly to continue to advance his education. He is now completing the third of a four year program in engineering and Computer studies.  ATZUM was privileged to grant him a long-term, interest –free loan to help pay his tuition.
A.K. is 28 years old from a kibbutz near the Gaza Strip. His father was killed in 2008 in a rocket attack which destroyed their home. As he was not a minor at the time, owing to National Insurance Institute regulations, he is unable to claim most of the benefits given to children of victims of terror. A.K. lives independentlyand works to support himself, but has difficulty affording tuition. He is finishing the third year of a four year program in bio-technology at a college in Northern Israel. ATZUM helped him purchase a laptop computer necessary for his studies.
T. M.
The father of four school-age children, T.M. was injured in the Mahane Yehuda outdoor market bombing in 1997. T.M. still suffers the physical and emotional effects of his trauma, unable to work and demoralized. As a result, his family suffers severe financial hardship. ATZUM provides this family financial aid and secures additional assistance from other organizations for medical expenses.. ATZUM sent Hannuka presents for the children and money for holiday food; organized and funded activities for the children both enjoyable and therapeutic including summer camp, basketball clinics, trips with other child survivors of terror and pen-pal relationships in the United States. ATZUM further arranged educational, psychological and neurological evaluations, tutoring ,and time spent with volunteer role models.
Z.Y.
Z.Y, 39, and his wife E., 37, parents of four children, were injured by boulders thrown at their car by terrorists in 1989. E. was physically unharmed, but emotionally traumatized. Z. suffered brain damage, the loss of an eye and severe deformation.. and was designated 82% disabled by the National Insurance Institute. He has difficulty concentrating and remembering and often behaves impulsively. Nonetheless, after several years unemployed, he is now doing clerical and janitorial work full-time. Though the salary is minimal, the work is an important part of his rehabilitation.
Before coming to ATZUM's attention, the family received little assistance because the attack occurred prior to autumn, 2000 and much funding applies only to survivors of the current terror campaign in Israel.
ATZUM helped this family with tutoring for their children; arranged additional financial aid from other organizations; and provided one daughter's modest bat- mitzva celebration. ATZUM's social worker acts as the advocate to the children's school concerning their learning difficulties and made a connection between Z.Y.'s family and a family in Florida who raised funds for them.
G.M.
An immigrant from Ethiopia, GM is a 25-year-old mother of two preschoolers. She was injured in a suicide bombing at the Hadera Central Bus Station in 2001. After spotting two terrorists, she was in the process of calling for help when they blew themselves up. In addition to the physical trauma, she continues to feel anguish that she was unable to prevent the bombing and save the lives of those murdered. G.M is taking an NII vocational course to retrain as a secretary. Her husband was unemployed for several months and recently found work as a cook, earning minimum wage.
The NII determined G to be 30% permanently disabled. As renters, unable to buy their own home, she and her husband have moved from apartment to apartment, resulting in a heightened sense of insecurity. Given G.'s depression and anxiety, classic signs of post-traumatic-stress disorder, the professionals treating her strongly recommended that her family secure permanent housing. As Ethiopian immigrants, they are entitled to a housing grant, and as a victim of terror she is entitled to financial assistance and loans from NII. Even this help was insufficient to cover the cost of purchasing the very modest apartment they chose.
ATZUM facilitated the family's approach to various organizations and raised $14,000, enabling them to fulfill the dream of owning their own home. We arranged for financial aid for new beds for the children and paid the family's monthly living expenses during the period when G. was not receiving a monthly income. ATZUM's social worker is in weekly contact with G., offering much-needed emotional support.
The O Family
R. and A. and their 3 sons immigrated to Israel from Iran in 2000. Six months later, two of their sons were stabbed repeatedly by a terrorist who broke into their apartment. In addition to the serious physical injuries suffered by both boys, the entire family was traumatized. M, the youngest son, suffers from post-traumatic stress and receives psychotherapy. He is afraid to be home without his parents, jumps at any abrupt sound, and suffers endless nightmares. N, the oldest son, tries to be "fine", but is anxious and easily frightened. A., the boys' father, was laid off from his job as a chef and now relies on temporary odd jobs. He is a hard-working man, eager to get back to work to help support his family. Unfortunately, he he has not succeeded in finding a steady job. R. suffers from constant pain due to a serious arthritic condition. She earns a minimal salary working in a day care center. ATZUM provided funds to pay for after school programs for M, the youngest son, as recommended by his psychologist to help him recover from his trauma. ATZUM also paid for dental care for A. and purchased much needed household items for the family.
B.R.
B.R.,18-years old, is one of six children whose divorced mother was seriously injured in a terrorist attack. Until recently, B worked six days a week at two jobs in order to help pay her tuition and dormitory fees, leaving no time for her schoolwork. ATZUM paid one semester of B's dormitory fees, enabling her to give up one of her jobs and significantly reduce the number of hours she worked at the other job. B felt an immediate lightening of her burden and recently joined a school theater production in which she has the star role! ATZUM also paid for aural surgery that will hopefully end life-long ear infections and related health problems.
Z.S.
Z.S. is a 40 year old married mother of two children. living in Holon. Large rocks thrown at her car by terrorists caused multiple injuries. She suffers from post-traumatic stress disorder and depression. Although she attended a vocational rehabilitation course, she is unable to work, fearful of leaving home alone. Her children both have learning disabilities and are not doing well in school. ATZUM bought the family a computer and educational software and paid for private tutors for the children to assist them improve their grades and shore up their self-esteem. ATZUM also purchased appliances for the family and paid for extensive dental care for one of their children.
Names have not been used in order to protect the families' privacy.