May 31, 2012
By Abigail Klein Leichman
Social activism group believes students can learn from Righteous Gentiles who saved Jews during World War II.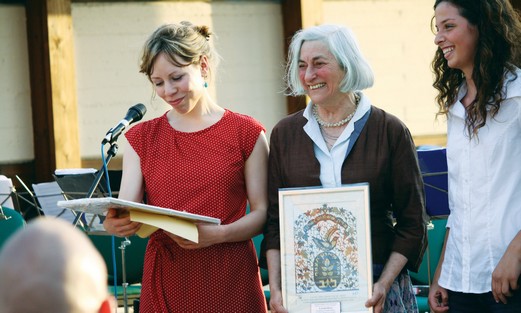 The Nazis murdered Esther Boissevain Grinberg's father and six other relatives. The rest of her family barely survived the war years in Holland. Yet Grinberg's family was not Jewish. Her parents, and 16 members of her father's extended family, were gentiles who paid the ultimate price for refusing to stand by as Jews were being persecuted.
Today, the 78-year-old retired nurse is an Israeli grandmother living in Kiryat Tivon. She was the inspiration for "The Light in the Darkness," a 10-day exhibition that opened on May 21 at the Leo Baeck Education Center in Haifa – a school of more than 2,000 pupils that was founded in 1938 as a kindergarten for German Jewish refugees.
The culmination of three years of student research, the exhibit includes authentic photographs, documents, objects and artworks of the Boissevain family and of the Jewish community in Amsterdam, with the cooperation of Yad Vashem Holocaust Martyrs' and Heroes' Remembrance Authority and the Dutch Friends Foundation of the Holland Department of the Ghetto Fighters House Museum Association.
The high school seniors were so taken with Grinberg's experiences that they wanted to share her family's story of bravery, compassion and humanity with the Israeli public.
"We really dived into her stories and became close to her from learning the history of her family," says Shani Sarusi, a 2008 Baeck graduate who helped with the project. "I feel like a niece to her."
Sarusi says each of about 20 students made a work of art to illustrate one of Grinberg's accounts. The exhibition will include, for example, a violin one of the Baeck seniors made in tribute to Grinberg's cousin Mies Boissevain, who sheltered Jewish refugee children including Theo Olof, later an accomplished violinist.
The initiative began through Yael Rosen, director of the Righteous Among the Nations Project at ATZUM, a social activist organization. She tends to the financial and social needs of about 30 surviving Israeli residents who rescued Jews during the Holocaust. Close to 130 of them chose to accept citizenship in the Jewish state after the war.
"Esther is one of the younger ones, and among the few who converted to Judaism," says Rosen, who has involved Baeck as well as Holon, Karmiel and Jerusalem schools in caring for these aging heroes.
"A few years back we sent Esther holiday cards written by the students. She was so pleased that we asked her to write up her story, and that opened an opportunity for her to start dealing with her family's past. We sensed a real potential for a joint educational project. She had so much to tell, and the students had so much to gain from learning her story and meeting her."
Miri Wolf, head of a leadership development program at Leo Baeck that is affiliated with the Israeli Youth Award program, worked with Rosen and acted as treasurer for the exhibition.
Wolf says Grinberg not only helped rescue Jews but also became an active community volunteer in Israel.
"Esther is a leader, and the children were empowered, motivated and inspired by all her activities," says Wolf.
"They learned many new things about rescuers during the Holocaust, and in the process they took an inner journey. They had to ask themselves how they would have acted under similar circumstances – what choices they would have made. It was very meaningful for them and their parents."
The project required three successive groups of senior volunteers because it kept growing, Rosen explains.
"We were helping Esther with her research, and new discoveries kept coming out from students prompting her with questions."
In 2008, Grinberg wrote a 26-page account of her family's activities in the war years. An 11-page addendum written in 2011 has information revealed through the student project.
For young Esther (born Hester), the hardships began in 1936, when the Nazis seized her father Robert's assets due to his business ties in Germany. They had to leave their Amsterdam house and live more modestly in her grandmother's summer home in Zandvoort on the Dutch coast. As her father's anti-Nazi activities grew, the family of eight moved several times until settling into an empty Haarlem house owned by relatives.
One afternoon in March 1943, her father brought home "dinner guests," a Russian Jewish couple named Goldberg and their 29-year-old daughter. They remained hidden in the Boissevain residence until May 5, 1945.
"It changed our lives completely," Grinberg recalls.
"We were told never, ever [to] speak about the Goldberg family. For this reason we were also not allowed to play with other children or bring them home."
Her father also went into hiding later that year, but was betrayed, imprisoned and tortured. He died in Buchenwald on April 12, 1945, as Allied soldiers were arriving.
"One of the students asked Esther whether she ever heard from her father, and she recalled standing next to her mother when she received a letter from him around Christmas 1944. She asked her brother about it and he had the letter," relates Rosen. "It's going to be part of the exhibition. And we also have original documents written by the Jews they hid, which Esther found recently when she went to Holland and looked through the old house."
If life was tough before her father's departure, it got much worse after. Grinberg's mother, Sonia, received ration cards that allowed her to get watery soup for seven. But she had to feed 11 people, counting the Goldbergs and a Dutch Jewish dentist who had joined them.
For one seven-month stretch they survived by eating tulip bulbs, which they shared with some elderly neighbors.
Severely malnourished during the "hunger winter" of 1944-5, they hung on until American and Canadian soldiers arrived in May.
After the war, Grinberg finished nursing school and looked for a way to apply her skills broadly. "I saw pictures of the [Jewish] immigrants coming in the ships and landing in Haifa, and I said, 'This country needs help, so why not?' I arrived in 1961," Grinberg says now.
She converted when she married Edy Grinberg, mainly because she wanted her future children to feel fully part of the Israeli nation. They raised a son and daughter, and are the grandparents of five.
ON A cold, windy Jerusalem day in 1980, the Grinbergs celebrated their son's bar mitzva. Earlier that morning, Sonia Boissevain joined them for a tree-planting ceremony at Yad Vashem that officially recognized the family as Righteous Among the Nations.
"We stood there silently; the only thing my mother said [was]: 'So Father must have endured it in the very cold of the winters, the many months he lived there only in his striped pajamas, working, loading rocks for making tunnels, until his tragic death at the end.'" As it turns out, 18 members of Robert Boissevain's family had been involved in rescuing Jews, but each kept the secret so well that none knew what the others were doing.
More than 5,000 Dutch citizens are recognized as Righteous Among the Nations. However, unlike the better-known Corrie Ten Boom, the Boissevains weren't motivated by Christian faith. "It had nothing to do with religion," says Grinberg. "They just thought what the Nazis were doing was absolutely wrong and wanted to do anything they could to keep Jews alive. Seven of the 18 did not survive, including my father."
Grinberg's uncle Wallraven van Hall, a prominent banker, devised a daring scheme to funnel large sums of money to the Dutch Resistance and to about 2,600 Jewish refugee families over the course of five years. He was executed in 1945 in Haarlem. Today there's a monument honoring him near the Nederlandsche Bank in Amsterdam.
Another relative, Hester Baracs, saved Jewish children including a 10-day-old baby. He grew up to become the Israeli painter Benny Peleg, who came up from Rehovot for opening night to tell his story and show his works.
Grinberg arranged for Baracs's daughter and granddaughter to come from Holland for the opening as well.
The items in the show may become part of a traveling exhibition, perhaps under the purview of the Ghetto Fighters House Museum at Kibbutz Lohamei Hagetaot.
"It's nice to know the youth are bringing it to the next generation so no one will forget all the things my father's family did," Grinberg says.