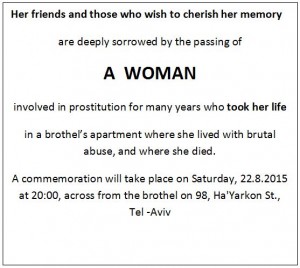 Last Thursday G' took her life in the brothel on 98 Ha'Yarkon., Tel Aviv, where she had been living for fifteen years exploited daily by dozens of men.
Saturday evening, 22 August at 20:00, we will be holding a memorial and protest event in front of the brothel.
For more information:
The brothel on 98 Ha'Yarkon has been operating in the same building for more than a decade. The police have issued several orders of closure, none was ever implemented owing to appeals by the pimps who operate the brothel.. G's friends believe her tragic suicide in the brothel intended to expose the brothel and force its closure.
Vered Lee commented in Haaretz on the brothel and the suicide:
http://www.haaretz.co.il/blogs/veredlee/1.2708811
The meeting will take place in the London Garden, close to the brothel on 98 Ha'Yarkon at 20:00.
For the Facebook event please turn to: https://www.facebook.com/events/862071103859565
The public is urged to join our mourning and our protest.