Israeli and international experts on human trafficking will gather at Kibbutz Ma'aleh HaChamisha on the 11th and 12th of January 2011 to engage in intensive discussions about the issues of human trafficking and how religious educators may better confront the problem.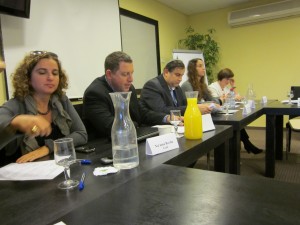 Rabbi Levi Lauer, Founding Executive Director of ATZUM and member of the Israel Task Force on Human Trafficking, noted that, "The struggle against trafficking in persons has attracted too little attention by the religious public in Israel, even as the exploitation of abused laborers and sex slaves has become a growing factor of Israel life. We hope that this conference will begin to fill this void."
Featured speakers include many of Israel's experts on trafficking and those involved with providing services to victims, including representatives from the JDC, the Shelter for Trafficking Victims, Mirpa'ah Levinsky, Tzlait and Kav L'Oved.   Among the speakers addressing the issue of trafficking from a Jewish perspective will be Dr. Aviad Hacohen and Rabbi Naftali Rothenberg of the Jerusalem Van Leer Institute, Rabbi Yuval Cherlow of Yeshivat Petach Tikva, and Gilla Rosen of Yakar in Jerusalem.  MK Orit Zuaretz, Kadima, will also address the group on the legislation she has proposed to criminalize the customers of prostitutes.
The Conference is sponsored by the Task Force on Human Trafficking, a joint project of Amutat ATZUM and Kabiri-Nevo-Keidar, in collaboration with the International Organization of Migration (IOM).