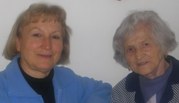 KONDRAYEV, Celina
Left: Valentina and Celina, Pardes Hanna, Israel
Shortly before the war, Ivan was sent to work in an area near the Russian-Polish border. When the Germans invaded Russia, Ivan was taken captive, along with the rest of the people in the area. After five months in captivity he managed to escape to Ukraine. There Ivan found work as a guard for a dairy.
The dairy that Ivan worked in was opposite the sealed ghetto. Jewish youth would secretly sneak out in order to bring food back to the ghetto. One of these individuals was Celina, age 15. On one of her excursions, she tried to enter the dairy. Celina was terrified upon encountering Ivan, but Ivan calmed her. From that day on, Ivan prepared small packages of bread and dairy products for Celina and other children to sneak into the ghetto without getting caught.
Upon the liquidation of the ghetto, Ivan found hiding places for Celina and a number of Jews who managed to escape. Ivan would transfer them to different hiding places, thus avoiding danger. Towards the end of the war, Ivan took Celina to hide in the warehouse where he lived in. It was there that he proposed to her, and the two married shortly after the war.
Ivan and Celina, together with their daughter Valentina, came to Israel in 1990 from Ukraine. Ivan passed away in the summer of 2005. Valentina dedicated herself to caring for Celina, until Celina's death in 2009. The two spent their summers in Ukraine visiting with family and friends.