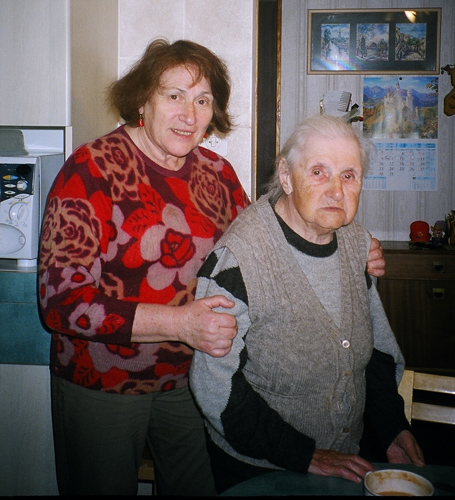 IMSHENIK, Galina
Left: Elena Dolgov and Galina Imshenik, Jerusalem, 2006
The story of Galina Imshenik and Elena Dolgov is an inspiring tale of love, care and survival, beginning in a small village in White Russia over 60 years ago and continuing to this day in Jerusalem.
Galina Imshenik was born in Kiev in 1912. At the beginning of World War II, Galina lived in a small village in White Russia (Belarus) with her husband Vladimir, a priest, and their 7 year old son.
Elena Dolgov (then Zodishsky) was born in a neighboring village in 1939 to a prominent Jewish family. Both her parents were well known physicians.
When a ghetto was constructed in 1941, Vladimir and Galina Imshenik risked their lives and the lives of their family members, taking Elena into their home and caring for her as a daughter in every way. The danger was enormous, intensified by Elena speaking Yiddish. Galina's mother lived with them and spent full days speaking to Elena in order to teach her Russian. In 1943, a suspicious neighbor reported the Imsheniks to the police. Galina, Vladimir, Galina's mother and Elena were questioned by the Gestapo and released. By this time, Vladimir and Galina were the people Elena recognized as her parents.
Elena's biological mother and brother were among the few family members who managed to survive. After the war, they approached the Imsheniks to take Elena with them to St. Petersburg (Leningrad). Since Elena did not remember her biological family, the process of leaving the Imsheniks was extremely difficult. Elena eventually acclimated to the new situation, but stayed in close contact with the Imshenik family including the newer additions to the family– 3 grandchildren and 3 great grandchildren.
When Elena decided to make aliya after the collapse of the Soviet Union, she was determined to take Galina with her. In 1992, Galina, and Elena and her family moved to Jerusalem. The ties forged during and after the war were such that Galina left her home and her son and his family in Russia to live with Elena in Israel.
Today, Elena and her husband live with Galina, who is very frail and needs much assistance. ATZUM provides Galina with a Russian speaking volunteer who visits regularly.