Family by Family
This project connects bar/bat-mitzvah aged children and their families in North America. to b'nai/ b'not mitzvah in Israel who were wounded in a terror attack, or whose family members were wounded or killed. In each case, the American family decides how to define its relationship with the Israeli child. These include corresponding by letter, phone, or e-mail; sending gifts, or organizing special mitzvah projects in their hometown. In similar fashion, American couples about to be married are connecting with Israeli SOT newlyweds. For example, students who once studied with Rabbi Levi Lauer, Founding Executive Director of ATZUM, asked their wedding guests to donate to ATZUM in lieu of giving a wedding gift.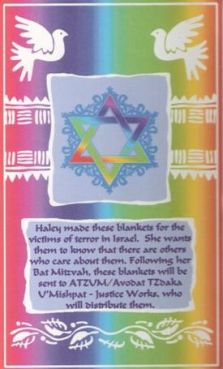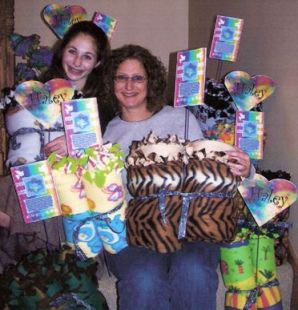 Above: Project organized by a bat mitzvah who crafted blankets for young survivors of terror
***
Below is a thank you letter from a recipient of one of the crafted blankets.
Dear Friend,
I received your awesome gift. It is obvious from every centimeter of your beautiful work that you put into it alot of effort and a lot of caring. If I could, I would give you all the compliments in the whole world that you so deserve for being so special.
I wish for you that you should continue with your important mitzvah work. I hope that the caring that shines out of your efforts will give you the strength to continue to do more and more good for the world and that you will continue to warm the hearts and the bodies of others. Only love will win out in the end and only love can cross rivers, oceans and continents enabling you to cheer me so much from so very far away.
Thank you so very much from deep in my heart,
CM
——————————
Bar Mitzvah Projects
Many thanks to Avi Rosalimsky and Natan Wind and their families from Teaneck, New Jersey for their hard work raising funds for Survivors of Terror families. Both boys raised several thousand dollars. The two families came to Israel this summer to celebrate their bar mitzvahs. We connected each of them to a Survivor of Terror family with a bar mitzvah boy of the same age. The Israeli boys and their families joined in the festivities and everyone involved enjoyed the new friendships.
The following are excerpts from a moving letter written by M.G., a wonderful 12-year-old boy from Mill Valley, California. The letter was distributed to all members of his synagogue as part of his bar mitzvah project to help Israeli survivors of terror.
Dear Family and Friends:
The tragic suicide/homicide bombings that have taken place in Israel have affected the Jewish community as a whole. For me personally, every time I hear about another killing I feel like I have lost a family member. Now imagine what it would be like if you actually lost a family member in one of these terrorist attacks. After thinking about this, I decided that for my Bar Mitzvah project I was going to help start an "adoption" program at my synagogue, Kol Shofar.
The family that our synagogue has decided to assist is the R family, which now consists of three little girls and their grandparents. The tragic story begins with the death of the girls' mother, who was a passenger on a bus in Jerusalem when a suicide/homicide bomber exploded it. Unfortunately, the story gets worse, because the girls' father died just a few months later, leaving the responsibility of raising the three little girls to the maternal grandparents, who are in their late sixties.
The girls and their grandparents live in a low-income section of Jerusalem in an apartment that is about the size of your master bedroom. The truth of the matter is that the grandparents are in their seventies and will not be around forever, and the girls will not be in good shape mentally or financially.
After you have read the above, I hope you see the great needs of this family. Our goal for this year is to raise $10,000. Also, small useable toys and clothes that are new or in very good condition are needed. Many people have already donated money. If everybody in the congregation gave $20, we would reach our goal. It isn't difficult. If instead of buying Chinese food for dinner one night, you donated the money instead to the R. family, you would have done your part. I hope that everybody gives money to this family, whether it is $20 or $1000, because every dollar counts.
The agency that Kol Shofar and I am working through to help this family, and other families who have been victims of terror in Israel, is called ATZUM. What I like about this organization is that an anonymous donor pays for the entire overhead, so that 100% of the monies raised go directly to the family in need.
I hope that all of you will have enough room in your hearts to help a devastated family get back on their feet. If you would like to join in this project by being connected to a family in need in order to commemorate a special occasion in your family's life – or if you have an original idea to help a needy family in Israel – please contact Nomi Elbert, Project Coordinator, via our e-mail form.
The bride-and-groom, new-baby, holiday clothing and child gift-packs provided by DIVOTE of South Africa, a project co-ordinated by Cheryl Unterslak
The SHOP (Shopping to Help Other People) program, based in Portland, Oregon, and co-ordinated by Nehama Bennet-Teasdale, in which volunteer personal shoppers purchase new clothing for families in need
A U.S. project that organizes volunteer quilt-making for child survivors in Israel
Four projects funded by the To Save A Life Foundation, co-ordinated by Jerry Klinger:
1) New-shoe fund
2) Fund providing school supplies
3) "Prehugged Toys" donation project linking American and Israeli children
4) Sterling-silver wedding-gift program
The stuffed–animal gift project of Bears-from–Bergenfield (New Jersey), co-ordinated by Claire Ginsburg Goldstein
An anonymous program that donates new baby clothes, winter jackets, and school and art supplies for child survivors
The "treats" program, initiated by private donors to cheer the survivors by sending them flowers, gifts, balloons and restaurant vouchers