Since 2004, the Alma Drucker Free Loan Fund has provided critical support to scores of terror survivors, survivors and their families whose needs have not been met by other bodies. Interest free loans are available for dental procedures; educational resources such as tuition, tutoring, and computers; and emergency expenses. For these individuals who have suffered so very much, the fund has made a difference as they struggle to live with greater security and hope during difficult times.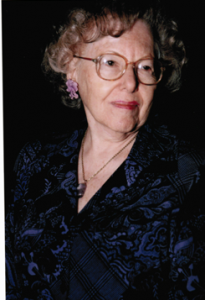 The Fund is named for Alma Drucker (z"l) who escaped from Austria as a teen on her own, her family joining her later. In the United States, she preserved much of the best of the Europe she fled. Genteel, well-read and classically cultured, opera was her life-long passion. Devoted to family and friends, she never forgot their important days, and respected their lives' choices, regardless how different they were from her own.
ATZUM's Alma Drucker Free Loan Fund helps continue her devotion to sustain a kinder, more gentle, caring society.Israel and her synagogue were at the center of her life. After her son made aliya, she visited his family annually. Remarkable in today's world, she thought only rarely about her needs, taking care of her husband during a difficult, extended illness.